Freudian slip. What I meant to say is that the Apple store has sold out of it's "smart speaker", the Homepod. Sorry.
Apple's $299 HomePod is no longer able to be purchased from the online store because it's been out of stock since this morning.
Both the white and space gray versions of the ‌HomePod‌ are currently listed as "Sold Out" on Apple's website, perhaps due to supply chain issues.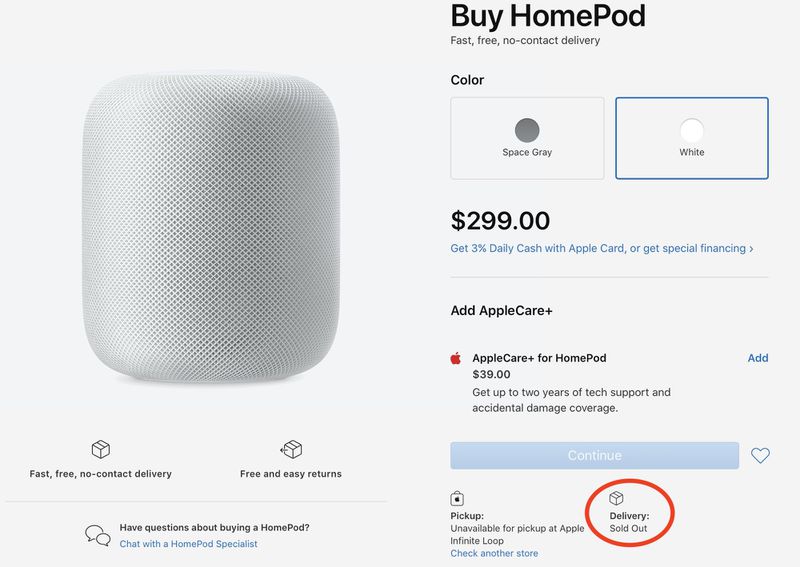 There's no word on when the ‌HomePod‌ might be back in stock from Apple, but customers who want to purchase one can still order from stores like Best Buy and B&H Photo.
There have been rumors suggesting Apple is working on a new low-cost, smaller version of the ‌HomePod‌ that will be released at some point later this year, but the current shortage is most likely a supply problem.
Update: ‌HomePod‌ now appears to be available again with a slight shipping delay.
Granted, the brief unavailable status of the Homepod appears to have been caused by a supply chain issue, not demand. Yet and still, we moderns do intensely desire to be supervised and to have our thoughts monitored and recorded by weird, hateful strangers. That is why we pay to install privacy-destroying devices into our homes.
Good lord, at least Winston Smith carved out an alcove in the corner of his apartment to enjoy a respite from the peering eye of Big Brother.
I wonder if the crony capitalists of Silicon Valley and the deviants of the global high technology industry are listening to you have sex with your wife and documenting each and every thought crime you commit as you speak to your children.
Rhetorical. Of course they are.